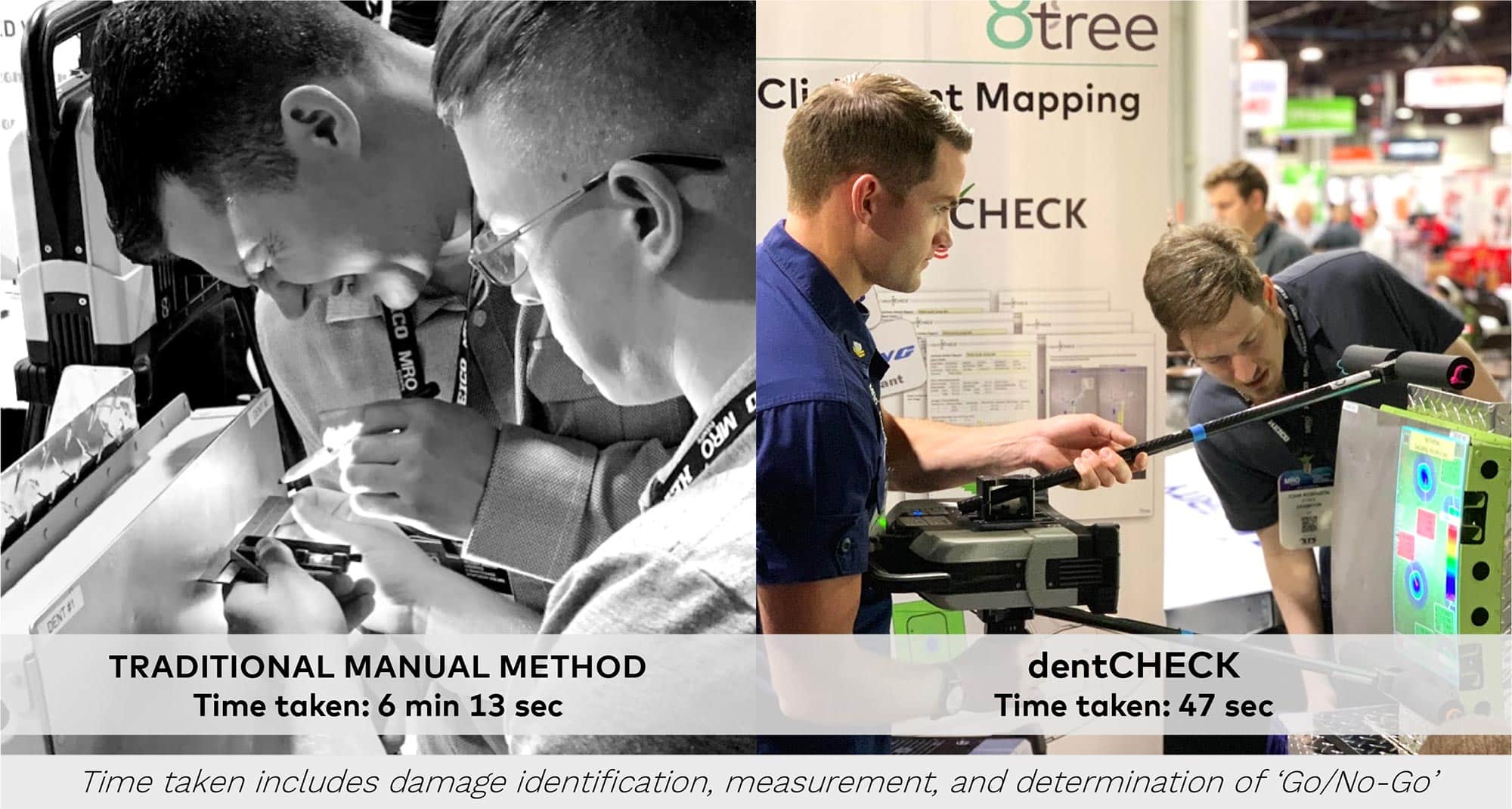 At the recent 2019 Aerospace Maintenance Competition (AMC), dentCHECK helped participating technicians complete an inspection task 8x faster, delivering higher efficiency when compared to using traditional manual methods. In addition, leading maintenance organizations reported that dentCHECK helps engineers create SRM-compliant digital reports up to 10x faster.
In a real-life aircraft maintenance scenario, the goal is to minimize aircraft downtime, while delivering high quality repair work. A complete inspection process for the dent-mapping event included the following: Identify the dent to be measured, then obtain high quality measurements, and finally with confidence, determine 'Go/No-Go'.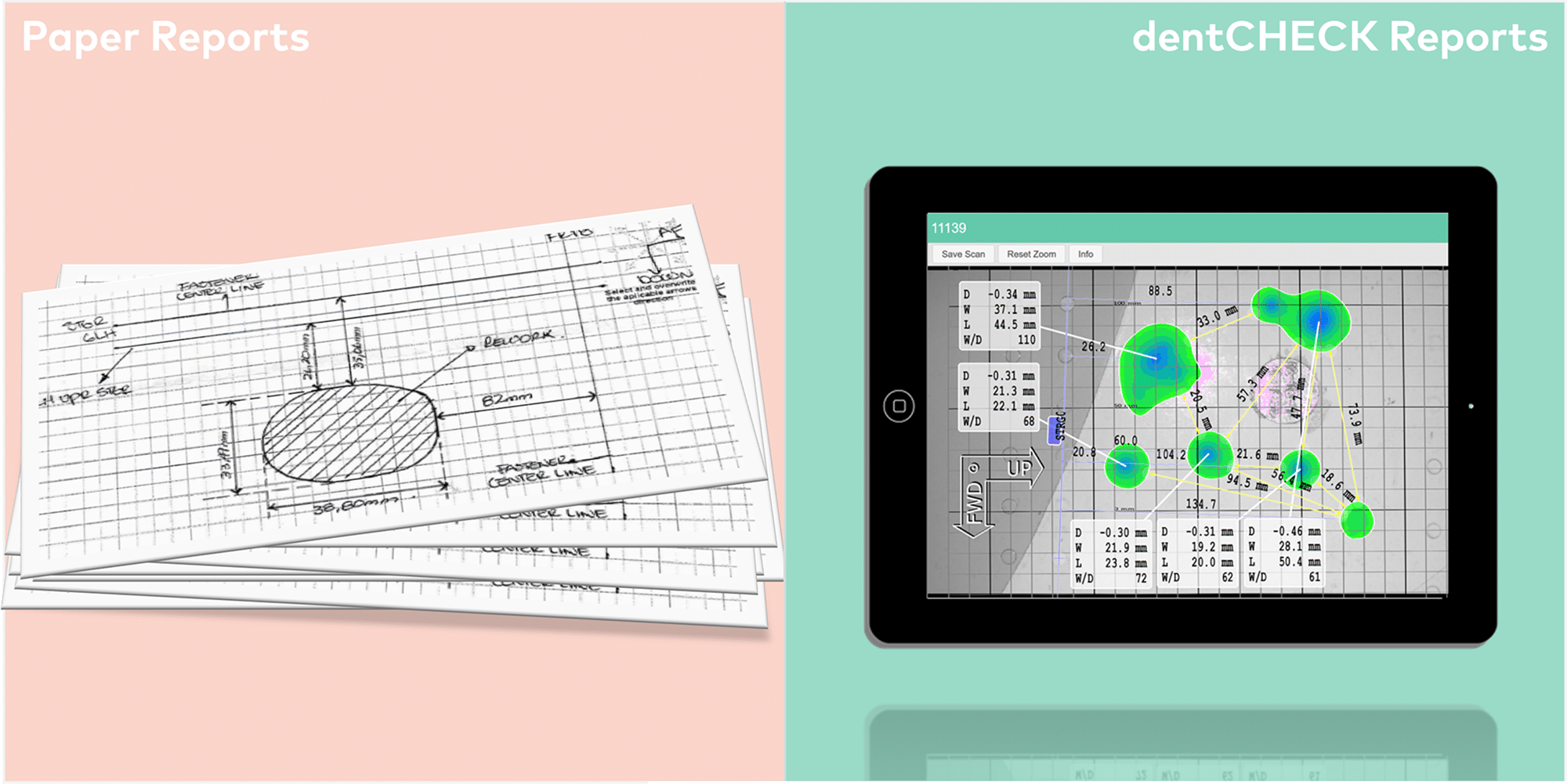 Depending on the nature of a damage, aircraft maintenance technicians (AMT) may have to submit the inspection information to engineering.
How is this process accomplished today? Traditionally, all measurements are hand-written. Then, they are submitted along with accompanying photographs or sketches. This method is highly prone to transcription errors. A typical dent mapping experience using traditional methods usually results in engineering team's requesting additional information from AMTs, such as distance to adjacent fasteners and damages, additional depth measurements, and sometimes just a second independent measurement!
In contrast, with one-click, dentCHECK produces a digital twin of the actual physical damage – displaying the dent's key characteristics, including measurements and outline. Then, engineers can use this information to digitally create an SRM-compliant report.
Benefits of measurement consistency are clear. How do the methods compare when the time taken to accomplish an inspection task is paramount?

The chart above shows the average time taken to accomplish the prescribed inspection task at the recent AMC – the traditional manual method takes 6 minutes 13 seconds, while dentCHECK takes 47 seconds. With dentCHECK's point-and-click operation, users can inspect dents 8x more efficiently than with traditional manual methods.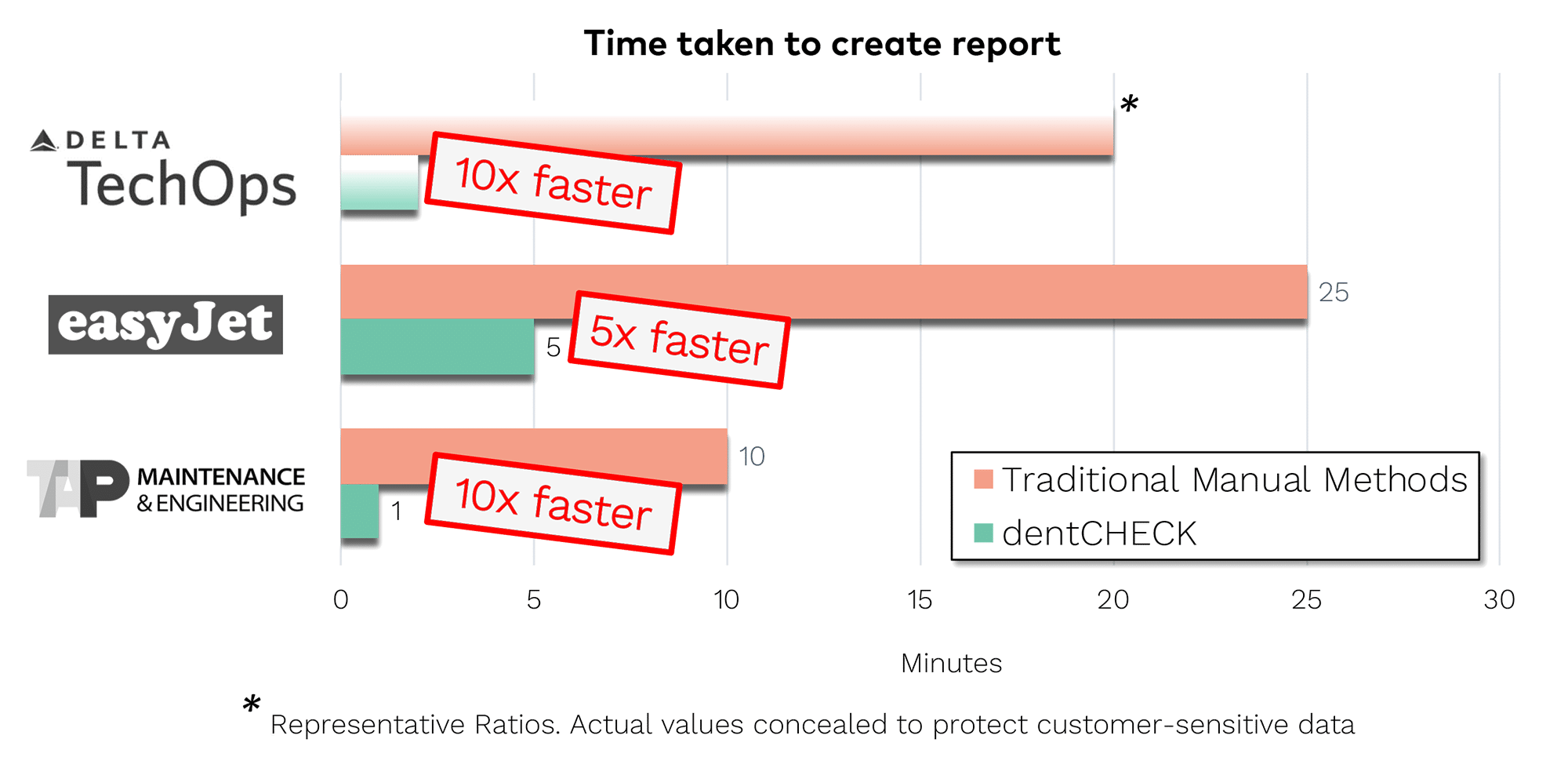 Using real-world examples, three leading maintenance organizations published efficiency gains associated with damage reporting. The chart above shows that with dentCHECK, engineers are able to create reports up to 10x faster. To read the complete study, see: Study 1: Delta TechOps, Study 2: easyJet, and Study 3: TAP M&E.
All these benefits point towards the same end goal – improved efficiency on the shop floor, ultimately reduces aircraft Turn-around-Time (TaT). Stay tuned as we discover how the AMC participants find dentCHECK's ease-of-use, and how dentCHECK is playing a role in preparing technicians for the future.